I like to consume a lot of information.
No, not Facebook posts and Twitter feeds. Books…
It's something I learned from my dad.

And I have to admit, he was right.
"Reading is one of the best ways to learn" ~ Jack Dolan
That's what he used to tell me and my brother growing up. But it didn't sink in until I was in my 20's. I guess you can say I was a slow learner… but not anymore.
Today, there are many ways to improve your reading habit. The obvious one is with a good old-fashioned hardcover or paperback book.
And reading is so easy thanks to technology.

Ordering with Amazon is a snap, which is my primary method.
But there are some titles or topics that I prefer reading on my iPhone with the Kindle app. And for driving, walking, or when I'm on the go, I like to maximize that time with the Audible app, and listen.
Each format gives you a distinct perspective. And there's so much variety, so I just don't understand how anyone can say "I don't have time to read"; or even worse, "I'm bored".
Really?
Stop making excuses and find a way. There's so much to learn!
And if you feel that you're a slow reader, and it's become an obstacle, you can lose that excuse with an Audible subscription.
How cool is that?
So why am I writing about reading?

And what does this have to do with health & wellness?
Well, I'm just finishing up an Audible book titled The Longevity Plan: Seven Life-Transforming Lessons from Ancient China. And I love it!
It's about a small village in China once known as Longevity Village. One of the few areas in the world claiming to have a large number of centenarians.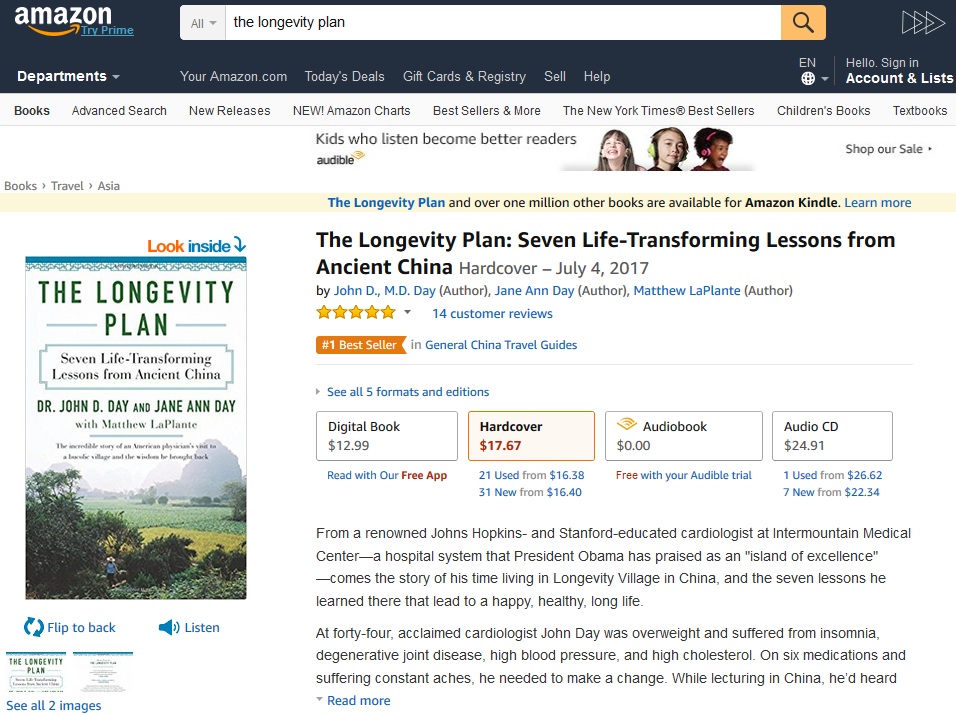 There's a lot to learn from these people. And the interesting thing is, that you can find a way to incorporate just a few of their healthy habits and you'll begin to gain massive results!
You can browse to 4 different formats of this book on Amazon by clicking here.
Here's the Amazon description:

From a renowned Johns Hopkins- and Stanford-educated cardiologist at Intermountain Medical Center — comes the story of his time living in Longevity Village in China, and the seven lessons he learned there that lead to a happy, healthy, long life.
At forty-four, acclaimed cardiologist John Day was overweight and suffered from insomnia, degenerative joint disease, high blood pressure, and high cholesterol. On six medications and suffering constant aches, he needed to make a change.
While lecturing in China, he'd heard about a remote mountainous region known as Longevity Village, a wellness Shangri-La free of heart disease, cancer, diabetes, obesity, dementia, depression, and insomnia, and where living past one hundred—in good health—is not uncommon.
In the hope of understanding this incredible phenomenon, Day, a Mandarin speaker, decided to spend some time living in Longevity Village. He learned everything he could about this place and its people, and met its centenarians.
His research revealed seven principles that work in tandem to create health, happiness, and longevity—rules he applied to his own life. Six months later, he'd lost thirty pounds, dropped one hundred points off his cholesterol and twenty-five points off his blood pressure, and was even cured of his acid reflux and insomnia.
In 2014, he began a series of four-month support groups comprised of patients who worked together to apply the lessons of Longevity Village to their lives. Ninety-two percent of the participants were able to adhere to their plans and stay on pace to reach their health goals.
Now Dr. Day shares his story and proven program to help you feel sharper, more motivated, productive, and pain-free. The Longevity Plan is not only a fascinating travelogue but also a practical, accessible, and groundbreaking guide to a better life.
I highly recommend reading or listening to The Longevity Plan: Seven Life-Transforming Lessons from Ancient China.
And since we're on the topic of reading, I can't help but also highly recommend 3 other books that can help you get in great shape and build better habits in many areas of your life.
This includes:

Burn The Fat Feed The Muscle

(Tom Venuto) Great book about getting lean, naturally.

The Compound Effect

(Darren Hardy) This book can transform your life.

Essentialism

(Greg McKeown) – Learn how to simplify your life by doing "less but better".
Thank you for sharing your time with me. I hope you found value.
Now it's time for YOU to take action…
What's your Win to be Thin? Leave a comment below.
Click here to subscribe. You'll receive an email with a link to each new post. And if you know someone that can benefit from this content, please share it with them.